This review is sponsored by
PLR.me
Remember when you were in school, and you had a term paper assigned to you? Imagine being able to log into a website, search through dozens of expert articles, pick the one you want and write your name on it. Sounds great in theory, but, you would be cheating both your teacher, and yourself out of an education.
Imagine the same principle applied to physical products, such as cranberry juice. Do you think that the Walmart brand cranberry juice is actually made by Walmart? The answer is no. They went to a cranberry juice manufacturer, bought the rights to the juice, and had it shipped over with their own label on it.
This principle is known as Private Label Rights, and while it might not have been ethical for your assignments, it's the standard way of operating in business. The experts create content, perhaps even better than you could yourself, and it's yours without time commitment and at 1/40th of the price.
If you're a coach, public speaker, author, or business owner who puts on workshops and seminars, then you probably know that creating fresh content every day is a very time consuming thing therefore expensive thing.
PLR.me provides you with Private Label Rights content that you can start using right away. The content is updated every month, meaning you get a full new set of unique content to display monthly.
Private Label Rights Video
This is a really fun little video that explains what PLR is. It uses a really funny example of how Walmart gets all those "Walmart brand" products without making a single one of them.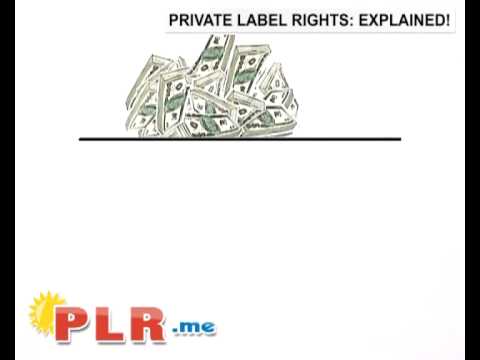 What Do You Get EACH Month?
(Delivered on the 1st of each month)
30 Articles (min. 500 words)
30 Personal Reflection Affirmations (great for blogs!)
20 Wallpapers (with inspirational quotes)
5 PDFs (worksheets, checklists, reports, etc.)
Graphics (all the graphics you need to promote the materials)
Monthly Mastermind Calls (we tackle your most burning questions)
Ronnie Nijmeh, the expert author and owner of the Quality PLR content at PLR.me gave me a free members pass for the purpose of this review. I was able to check out all the behind the scenes content that they provide, so I can honestly say that I am very impressed with the content quality that him and his team of authors have put together.
Sometimes "PLR" has a bad stigma attached to it. It's not unusual for someone to think of a PLR site as a bundle of "crap content for Adsense sites." After looking through a good number of the articles, I can honestly say that the content on PLR.me is high quality.
Ronnie's content is used by public speakers, authors, and big businesses who use the content for their in-person workshops and seminars. After all, for them to have one of those PDF reports researched, written, edited, and designed, it'd cost them a fortune… but having it done for them and ready to print-on-demand is a great advantage.
The content is really good, and it's ready to be posted right away in any of the following ways:
What Can You Do With All This Content?
Post on your website or blog
Email newsletters and auto-responders
Create eBooks
Create print-on-demand books
Loyalty-building giveaways
Record a podcast
Record a video and post it to YouTube
Put together a teleseminar
Sell it as a standalone product
Give it away as a bonus or as part of an upsell
Customer Service
Most PLR sites will just give you one bundle of articles, and never update it again. Ronnie and his team of writers at PLR.me have a fresh batch of expertly written content every single month. To back up the product, because Ronnie is positive that you will see an increase in traffic by using PLR.me, he is offering a 200% money back guarantee. I think that's pretty generous, and doesn't get much better.
Another thing that sets PLR.me apart, in the sea of PLR providers, is that you can give them a buzz on their toll-free number and ask them questions directly. Also, they boast that any e-mails you send their way will be answered within a day, if not a few hours.
Bonuses for Joining The PLR.me Family
Club Bonuses
We will send more information about your Website Analysis Review via email 30 days after starting your trial. The email will contain a questionnaire to fill out and we will review your site and provide a detailed report. If you have any questions, contact: support <*at*> plr.me.
PLR Video Training Series – Wondering how to use all this PLR content? Check out our video tutorials. It's a special bonus as a PLR.me member.
How to Customize, Edit and Brand PDFs – Videos – We've created 3 bonus how-to videos to teach you how to edit PDFs, add your own logo, website, affiliate links, and more.
Download the WordPress AutoPost Plugin (.zip) – If you have a WordPress site, you can use this simple plugin to automatically publish posts in "pending" status. Now you can have your posts scheduled and published without any heavy lifting. Of course, it's only compatible with WordPress and there are detailed instructions in the zip file.
Download the 400-image Graphics Pack (.zip) – Use these site seals, buttons, and call to action images on your site. It's like having a graphics designer in a zip file!
Download the 200 Opt-In Box Backgrounds (.zip) – Use these backgrounds to attract attention to your order forms and opt-ins. Just set the HTML or CSS background image (or get your webmaster to do it!).
Download the Step-by-Step Guide: "How to Post an Article Re-writing Job" (.zip) – Find a $3 per article re-writer on Elance, quickly, without the headaches. I've even included the full job posting description!
Download the "Top 7 PLR Article Re-Writers" List (.pdf) – Not sure which PLR re-writer to choose? These people all specialize in PLR re-writing and can get the job done fast.
In Closing
I think that Private Label Rights is a great idea for many individuals. If you would rather spend time on other parts of your business, such as networking with individuals, setting up business deals, and concentrating on how to bring more value to your clients then this is a great opportunity for you.
I think I'll be using bits and pieces of the content for certain things in the future. I want to share as many personal experiences as I can in future articles, since I find that style helps my own personal growth and it has proven to be the most interesting to you guys. PLR could still come in handy for research, and for giving you guys bonus content.
For $20 in the first month, it's definitely worth checking out. Check out more about PLR at PLR.me and don't forget to stop by their blog.